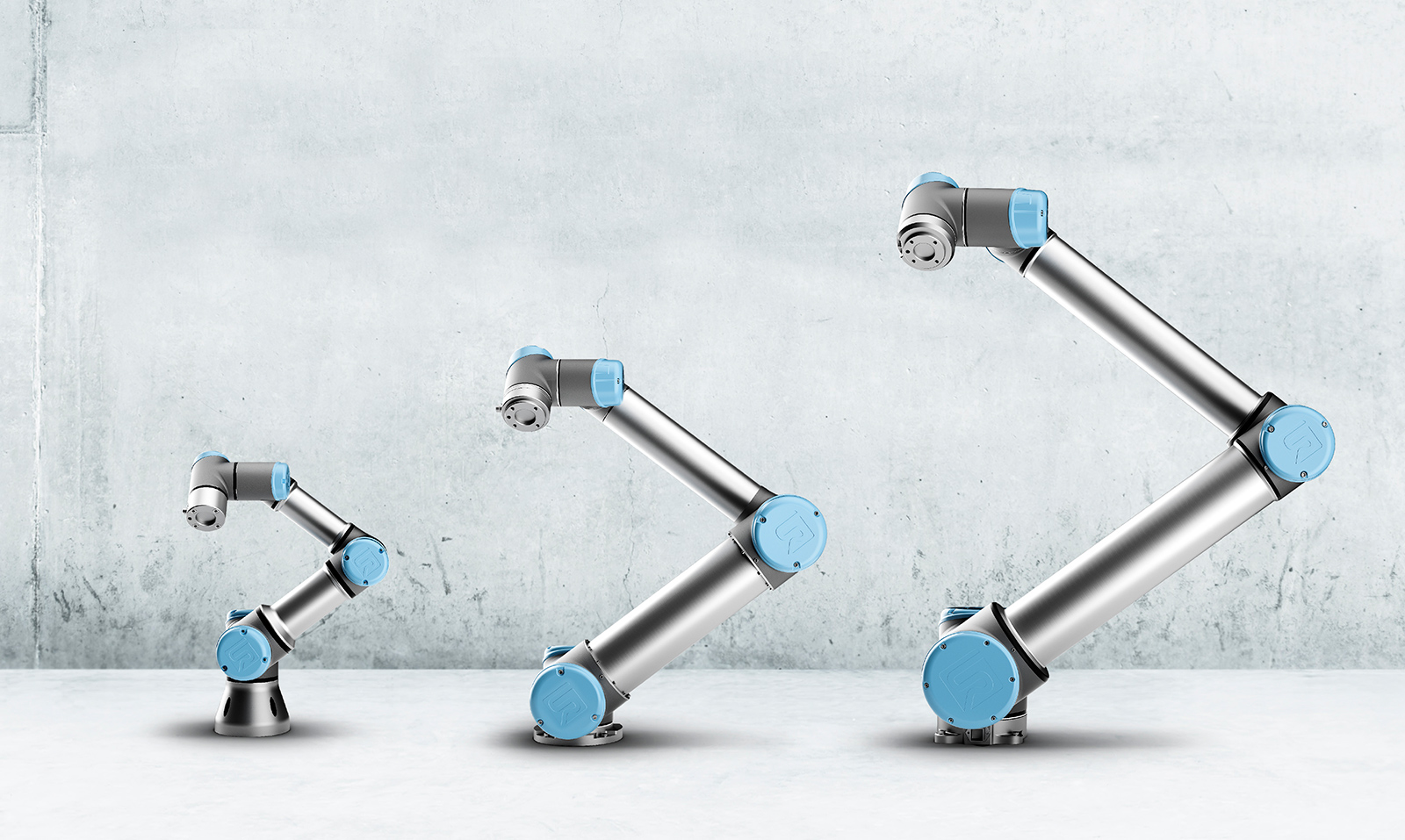 A series of repetitive and monotonous operations performed during manufacturing processes is boring for people. Engaging employees to perform such activities is often cost-ineffective. For these reasons, the introduction of a collaborative robot (cobot) into the production process is a technically and economically optimal solution.
Contrary to appearances, the automation of repetitive activities using collaborative robots (cobots) often does not require large financial outlays to prepare robotic production cells. Sometimes minor modifications are enough to organize the material flow and ensure the basic interaction of the cobot with the operator, which increases work efficiency.
We offer implementations in the area of robotics using Universal Robots cobots in versions UR3, UR5, UR10.
Our offer includes the implementation of solutions that allow you to automate some production activities:
we analyze input data and risk,
we propose an optimal solution for task automation and safety elements,
we provide the necessary mechanical, electrical, and control components,
we deliver a robot arm,
we provide integration, commissioning, and training for operators.
Features of collaborative robots:
scalable size and parameters of the robot's work,
repeatability of performed operations (accuracy up to 0.1mm),
no fencing separating the staff from the working robot arm,
appropriate design and algorithms built into the robot's software ensure safety at work confirmed by the TÜV NORD certificate,
in the case of simple applications, only basic workplace security is required,
the collision of a robot with a human does not cause injuries due to the built-in limitation of the allowable interaction forces,
the ability to work close to a human being, therefore the robot is an additional "helping hand" for the employee,
simple operation of robots and change of robots' software, does not require qualified personnel,
possibility of using one robot on several assembly stations,
possibility to define many production programs for one robot.
Examples of areas of application of collaborative robots:
pick up and place any functions
packaging and palletization,
machining of elements and subassemblies,
finishing of products,
assembly of elements,
automated quality control,
gluing and welding,
help with laboratory tests,
cooperation in the operation of machines.
Industry branches:
furniture and fittings,
subcontractors of main industries,
metal and plastic processing,
electric,
plastics,
pharmacy and chemistry,
food,
research and development.
Examples of applications of UR robots:
UR robot picking and placing
---
Packing and stacking on pallets with UR robots
---
Operation of a CNC machine with a UR robot
---
Screw driving with the UR robot